DAISETUZAN NATIONAL PARK SOUNKYO SPA
Hotel Taisetsu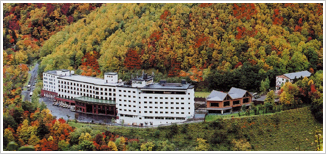 With warm hospitality.
Japanese and Western-style rooms with every luxury imaginable. Our spacious rooms and elaborate packages are designed with one thing in mind: your relaxation.


<Japanese-style room>



Japanese-style room.





Authentic Japanese-style room filled with Japanese atmosphere. The soothing scent of "tatami" mats are sure to relieve you of your fatigue.



<Special Deluxe Suite, Western-style room>



Special Deluxe Suite, Western-style room.



Optimally situated rooms offer great views of Hokkaido from the window. Relax your mind and body in these spacious guest rooms.
< East building >
Japanese-style rooms
122/100 with bathroom
Special Deluxe Suites
2
Banquet rooms
200-mat room,80-mat room,60-mat room
< West building >
Japanese-style rooms
101with bathroom
Western-style rooms
3
Special Deluxe Suites
2
Banquet rooms
300-mat room,100-mat room,50-mat room
| | |
| --- | --- |
| Equipments | Bath and toilet, Air-conditioned, Icebox, TV, Safe-deposit box. |
| Amenities | Toothbrush, Towel, Razor, Yukata, Newspaper. |
Enjoy what Hokkaido is famous for - our top notch cuisine.

One of the joys of visiting a foreign land is to taste the local seasonal cuisine. Carefully cooked delicious meals using only the best, fresh seafood and vegetables is bound to satisfy your heart and stomach.

 Course Menu 

| | |
| --- | --- |
| <Hot-pot course> | Enjoy the taste of nature's blessings in Sounkyo. This course is great for warming up the body while it's getting cold outside. |
| | |
| --- | --- |
| <Ladies course > | Highly recommended course meal for those who truly enjoy the art of food. The healthy and beautiful dishes will make you smile from the bottom of your heart. |


<Table dinner course >

Dishes of various colors which are beautifully presented on a small table.

5types of courses are available: "Oogi","Irodori","Hana","Miyabi","Utage".

The joy of taking a bath with a spectacular view is a memory that you will not soon forget.
Situated at the highest area in Sounkyo, the baths at Hotel Taisetsu offers a beautiful panoramic view of the surroundings.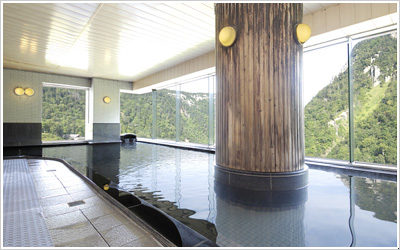 Observational bath <Taisetsu-no-yu> at west building 7F(male & female baths separated, equipped with sauna)

Observational bath at west building 7F

Chic fine view bathroom with black marble.
Well-ventilated open-air bath and well-lighted sauna are the pride of us.

Bathing time 00:00~24:00



King style bath room at south building1F

Light is streaming into the bathroom through the stained glass of windows.
  
Bathing time 0:00~24:00
The properties of hot-spring : simple-sulfur spring.

Effective for the treatment of : neuralgia, rheumatism, gastrointestinal disorder, hypertension, cerebral apoplexy, diabetes, skin disease, arteriosclerosis.
The more you enjoy, the more vivid memories stay with you.



Bar <Urban>
Complete with Karaoke and entertainment show.
For a midnight snack, try the "Taisetsu-ramen,"our specialty.
  
Business hours 19:00~23:00


<Canyon market>

Bring back souvenirs from Sounkyo!
Here is a good collection of products of Hokkaido.

Business hours 7:00~22:00 (souvenir store)
Business hours 7:00~23:00 (convenience store)


Izakaya(Japanese-style-bar)
<Taisetsu-chaya>

Have a good long talk with friends and enjoy midnight snacks.We have a large assortment of drinks, like "Hokuto kougen beer" only available in Sounkyo.

Business hours 19:00~24:30

DAISETUZAN NATIONAL PARK SOUNKYO SPA
Hotel Taisetsu
Sounkyo-onsen,
Kamikawa-cho,Kamikawa-gun,
Hokkaido 078-1701,Japan

TEL +81-1658-5-3211(For all inquiries)
FAX +81-1658-5-3420
mail to:taisetsu-yoyaku@taisetsu-g.com